LubeCon offers a comprehensive range of world class Castrol greases that provide advanced protection of capital-intensive equipment.
We can help ensure your equipment runs reliably for long periods of time, even in difficult – and sometimes hostile – environments, giving you improved production efficiency. Our goal is to achieve longer bearing life, optimize application performance, extend maintenance intervals, increase productivity, decrease maintenance costs and minimize overall grease consumption and waste.
Multi-Purpose, High-Performance
Extremely high load carrying capacity in this direction (250,000 psi). Sulfide layers shear easily in this direction to produce low coefficient of friction.
The MoS2 structure of Molybdenum Disulfide allows for extremely high load carrying capability in the perpendicular direction (250,000 psi) while shearing easily in the parallel direction to provide very low coefficient of friction to moving parts.
Solid lubricants are worked onto the metal surface to help prevent metal-to-metal contact.
Lubricating solids have a natural affinity for metal surfaces and provide an additional layer of protection to lower frictional forces and reduce wear rates.
In many applications, the washing action of water or coolant can be highly problematic and lead to poor grease retention as well as equipment corrosion and failure. Castrol formulates our high-performance greases to resist this washout effect and remain on bearing surfaces much longer, thus preventing corrosion even in the presence of aggressive process waters. The long-term effects are much lower grease usage and greatly extended equipment life.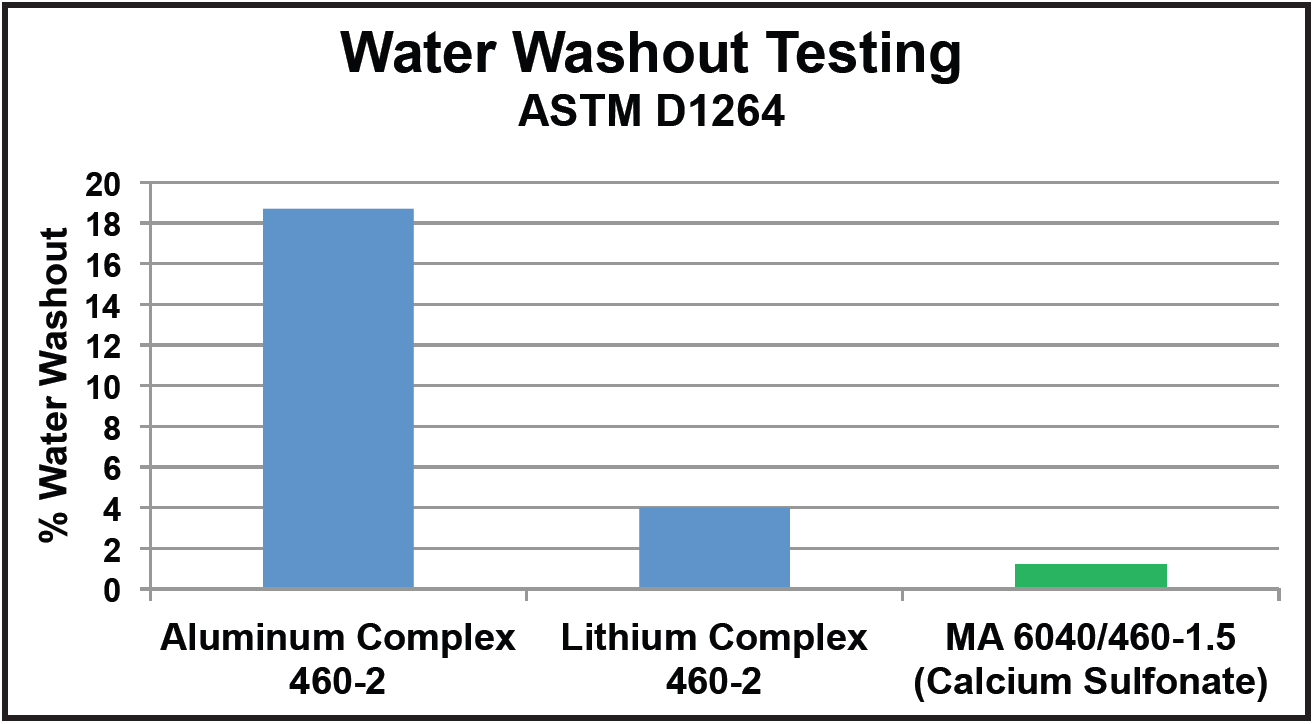 Exceptional water resistance of Castrol Molub-Alloy 6040/460-1.5 compared to conventional competitors.
Water washout test results using mill water from a steel plant. Conventional greases can break down quickly in these aggressive waters, but Castrol Molub-Alloy greases are formulated to withstand them.
Left: Conventional grease that has been infiltrated and degraded by mill water. Right: Castrol Molub-Alloy 860 ES withstands contamination from water and continues to provide an excellent lubricating fil
PRODUCT NAME
Color
Thickener
Additives1
NLGIs Available
Base Oil Type
Base Oil Vis. Available
Dropping Point (NLGI 1 & above)
Temp Range
Low Speed
Medium Speed
High Speed

Multi-Purpose+ High Performance

Molub-Alloy 777 ES
Dark Gray
Lithium
EP / Solids

1, 2

Mineral
ISO 1000
>356°F
+30 to +250°F
✓
✓
✕
Molub-Alloy 860 ES
Dark Gray
Lithium complex
EP / Solids

0, 1, 2

Mineral
ISO 150+ 220+ 460
>500°F
+10°F to +400°F
ISO 460
ISO 220
ISO 150
Molub-Alloy 4086
Dark Gray
Lithium complex
EP / Solids

1, 2

Mineral
ISO 320+ 460
>500°F
+10°F to +350°F
✓
✓
✕
Molub-Alloy 6040
Tan / Amber
Calcium Sulfonate
EP
2 (ISO 150) 1.5 (ISO 460)
Mineral
ISO 150+460
>500°F
+20°F to +350°F
ISO 460
ISO 460
ISO 150
Tribol GR 100 PD
Amber
Lithium
EP / MFT

00, 0, 1, 2

Mineral
ISO 100
>374°F
-30°F to +285°F
✕
✓
✓
Tribol GR 1350-2.5 PD
Brown
Lithium
EP / MFT
2.5
Mineral
1350 cSt
482°F
-15°F to +280°F
✓
✕
✕
Tribol GR 4020 PD
Beige
Lithium complex
EP / TGOA

1, 2

Mineral
ISO 220+ 460
464°F
-20°F to +350°F
ISO 460
ISO 220
ISO 220

Multi-Purpose

Spheerol EPL
Amber
Lithium
EP

0, 1, 2

Mineral
150 - 200 cSt
374°F
-5°F to +200°F
✕
✓
✓
Spheerol EPLX 460
Dark Brown
Lithium complex
EP

1, 2

Mineral
ISO 460
>500°F
+10°F to +300°F
✓
✓
✕

High and Low Temperature

Braycote 2115-2
White
PTFE
Solids
2
PFPE
510 cSt
None
-20°F to +480°F
✓
✓
✕
Braycote Inertox 2
White
PTFE
Solids
2
PFPE
ISO 150*
None
-15°F to +500°F
✓
✓
✕
Molub-Alloy 1000 HT
Dark Gray
Organic Sodium
EP / Solids
1
Synthetic
540 cSt
>500°F
+30°F to +550°F
✓
✓
✕
Tribol GR SW 1.5
Beige
Lithium Complex
EP
1.5
Synthetic
ISO 460
>500°F
-40°F to +350°F
✓
✓
✕
Tribol GR 4541 HT
Red
Lithium Complex
EP
1
Synthetic
ISO 150
>500°F
-40°F to 450°F
✓
✓
✓
Molub-Alloy 6780
Dark Gray
Lithium
EP / Solids (5% moly)
1
Semi-Synthetic
130 cSt
394°F
-40°F to +150°F
✓
✓
✓

Specialty

Molub-Alloy 9030-1
Dark Gray
Polyurea
EP / Solids
1
Mineral
ISO 460
>500°F
+10°F to +350°F
✓
✓
✕
Molub-Alloy BRB 572
Dark Gray
Lithium
EP / Solids
2
Mineral
ISO 150
>356°F
-15°F to +250°F
✕
✓
✓
Optitemp LG 2
Very light
Lithium
AW
2
Synthetic
ISO 46
428°F
-58°F to +248°F
✕
✓
✓
Optitemp PG 1.5
Beige
Lithium complex
R&O
1.5
Synthetic
ISO 220
>428°F
-40°F to +284°F
✓
✓
✕
Performance Bio GR 8899
Yellow / Amber
Inorganic
EP
00
Plant-Based
1670 cSt
n/a
+20°F to +250°F
✓
✕
✕
Tribol GR 400-3 PD
Brown
Lithium
EP / MFT
3
Mineral
400 cSt
>365°F
-13°F to +284°F
✓
✓
✕
Tribol GR 3020/1000 PD
Yellow / Amber
Lithium
EP / TGOA

0, 1

Mineral
ISO 1000
>350°F
-40°F to +248°F
✓
✕
✕
Tribol GR CLS 000
Beige
Lithium / Calcium
AW
000
Mineral
ISO 100
300°F
-40°F to +212°F
✕
✓
✓

Food Grade

Optileb GR 823
White
Aluminum Complex
AW / Solids

0, 1, 2

White Oil
192 cSt
>446°F
-20°F to +250°F
✓
✓
✓
Optileb GR UF
White+ Clear
Aluminum Complex
AW

00, 1

Synthetic
400 cSt
>446°F
-20°F to +284°F
✓
✓
✕
1 R&O = Rust & Oxidation inhibitors AW = Anti-wear EP = Extreme Pressure
1 TGOA = Tribol Gear Oil Additive, a proprietary blend of EP additives capable of improving gear condition.
1 MFT = MicroFlux Trans, a proprietary blend of EP additives capable of improving gear condition.
* Increases to 500 cSt above 100˚C temperature exposure